MAX YIELD BINS HYDROMETER READER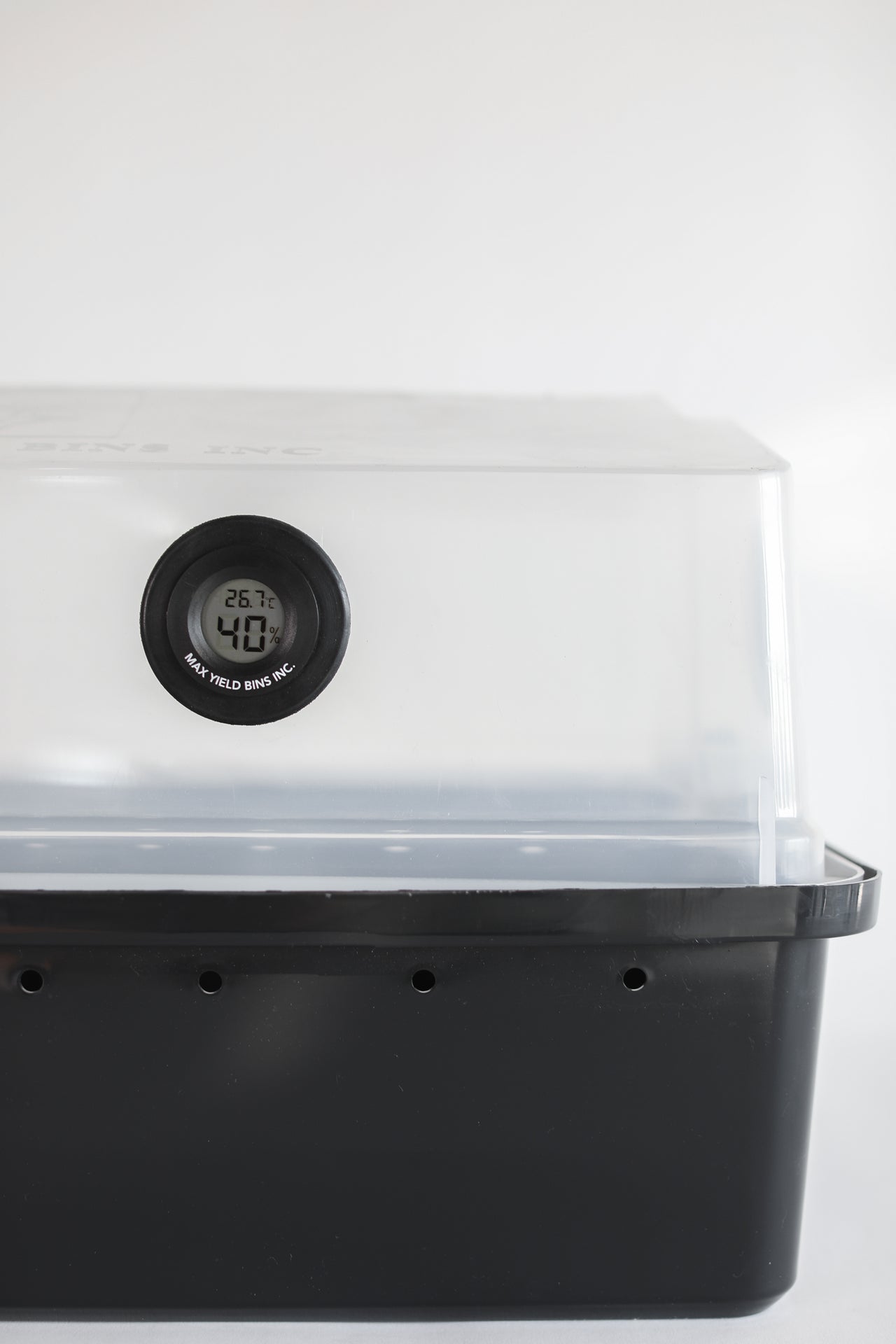 Product Description
Introducing the Hydrometer Reader by Max Yield Bins Inc. — Your Key to Optimal Mushroom Growth!
Achieve unprecedented control and maximize your mushroom yields with our cutting-edge Hydrometer Reader. Designed specifically for mushroom cultivators using the Max Yield Bin, this innovative device allows you to effortlessly monitor the humidity levels within your bin, providing critical insights into the ideal growing environment and precise timing for optimal mushroom growth.
Features and Benefits:
Accurate Humidity Monitoring: The Hydrometer Reader provides real-time and accurate readings of the humidity levels inside your mushroom grow bin. With its advanced sensor technology, you can easily track and maintain the perfect moisture balance required for vigorous mycelium colonization and abundant fruiting. Option to display in either ℃ or ℉.

Precise Timing and Harvesting: Timing is everything in mushroom cultivation, and our Hydrometer Reader ensures you harvest your mushrooms at the peak of their growth. By accurately gauging the humidity levels, you'll be able to identify the optimal moment for harvesting, resulting in consistently high-quality yields.

User-Friendly Interface: We understand the importance of simplicity and ease of use, which is why our Hydrometer Reader features a user-friendly interface. The clear LCD display presents humidity readings in an easily understandable format, making it accessible for both novice and experienced growers alike.

Compact and Portable Design: The compact size and portable nature of our Hydrometer Reader make it an ideal companion for any mushroom cultivator. Whether you're tending to a small-scale home grow or managing a larger commercial operation, this device seamlessly integrates into your setup, ensuring you have the necessary insights wherever you go.

Enhanced Growing Efficiency: By precisely monitoring the humidity levels, you can optimize your cultivation process, reducing the risk of unnecessary interference. This leads to increased efficiency, saving you time, effort, and resources while maximizing your mushroom yields.

Reliable and Durable: Crafted from high-quality materials, the Hydrometer Reader is built to withstand the demanding conditions of mushroom cultivation. Rest assured that this reliable device will provide accurate readings and serve as a long-lasting tool throughout your growing journey.
Take your mushroom cultivation to new heights with the Hydrometer Reader from Max Yield Bins Inc. Gain unparalleled control over your growing environment, time your harvests perfectly, and unlock the full potential of your mushroom yields. Order your Hydrometer Reader today and experience the difference it can make in your cultivation success!
For commercial accounts or bulk orders, click here.
Start Cultivating Mushrooms
There's no better way to start cultivating mushrooms indoors than with the monotub method. The airflow and humidity control mean you hardly have to lift a finger.

Simply set, seal and grow your very own mushrooms- It's that easy. Ask any of our loyal customers and they'll tell you, the results speak for themselves.
Save Time & Money
Grow organic mushrooms effortlessly with our Max Yield Bin, suitable for beginners and professionals. Enjoy gourmet mushrooms year-round with our efficient growing containers.
Delivered to Your Door
Place your order and our professional Mushroom Growing Containers will be delivered to your doorstep, ready for cultivation.
Reusable
Unlike growbags our other products for mushroom culitvation, the Max Yield Bin is designed to be used over and over again. Saving you time, money and keeping trash out of the landfills.