MAX YIELD BIN - V2 TAPERED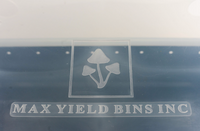 Product Description
The V2 tapered bin has been redesigned with changes coming to the lid. Spacing of the air vents allows for a more balanced distribution of airflow ensuring no dry spots. The tapered dome funnels condensation to run off to the edge of the bin rather than dropping on top of the growing surface which can lead to stunted growth. This Indoor Mushroom Fruiting Chamber is sold as a full unit with the base. Explore our Mushroom Fruiting Chambers for Sale to achieve the Max Yield on your next harvest.
A simple and effective solution for growing mushrooms indoors
Redesigned for more even airflow distribution
Equipped to control airflow circulation and humidity retention
Humidity run-off will now disperse to the edge instead of pool on top

Durable, with tight-fitting latches, keep the lid sealed to the base

Fit with a custom light-blocking base to prevent mushrooms from growing on the sides or bottom of your bin
Compact with an assembled size: 22:5" (L) 15.5" (W) 12" (H)
Sold with the Base
Made in Canada
For commercial accounts or bulk orders, click here.
Start Cultivating Mushrooms
There's no better way to start cultivating mushrooms indoors than with the monotub method. The airflow and humidity control mean you hardly have to lift a finger.

Simply set, seal and grow your very own mushrooms- It's that easy. Ask any of our loyal customers and they'll tell you, the results speak for themselves.
Save Time & Money
Grow organic mushrooms effortlessly with our Max Yield Bin, suitable for beginners and professionals. Enjoy gourmet mushrooms year-round with our efficient growing containers.
Delivered to Your Door
Place your order and our professional Mushroom Growing Containers will be delivered to your doorstep, ready for cultivation.
Reusable
Unlike growbags our other products for mushroom culitvation, the Max Yield Bin is designed to be used over and over again. Saving you time, money and keeping trash out of the landfills.